The unique remembrance site, created by the former Ghetto inmates in the western section of Poterne III, strongly encourages researchers to engage in closer examination and continued search for its messages. As a result, the site inspired a workshop called Messages from the Past, part of the program offer prepared by the Department of Education of the Terezín Memorial.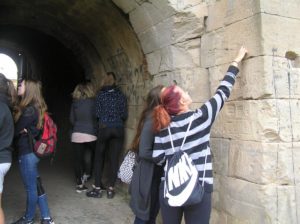 Preparations for the workshop were based on the research of the available records relating to the carved inscriptions preserved on the walls of Poterne III. During its research the Department drew on the digitized archives of many institutions and on the sources of the Terezín Memorial etc. This resulted not only in amassing a multitude of historical documents, but also in a meeting with the author of one of the preserved carvings, eventually in contacts with the decendants of the authors of other carved inscriptions.
The amassed period documentation is considerably varied in terms of its origin and content. It comprises, for instance, chronicle records, entries from registers, photos, personal correspondence and many other official records. With the exception of foreign-language documents translated into Czech, workshop attendees work with background materials in their original, unedited form. Due to this the workshop is destined primarily for older secondary-schoool students, mostly high-school ones.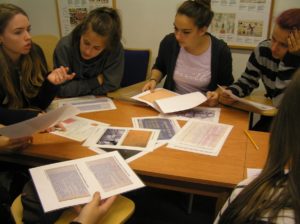 A workshop, lasting approximately two hours, consists of three stages. During Phase I students are first motivated to engage in further studies and then are introduced to the original, preserved traces left behind by the inmates. This takes place in the premises of Poterne III. In Phase II the students turn into researchers, analyzing the available records in a study, searching for contexts and links, and gradually piecing them together into a comprehensive picture of a specific person, eventually a story. A guideline in this case is offered by worksheets, tailormade for each subject under scrutiny. During Phase III the students present their findings, discussing various possibilities and pitfalls posed by the process of interpretaing the period documentation etc. Throughout the workshop there is a lecturer who is actively involved in students´ procedures.
During their two-hour workshop the students are acquainted with the actual extent and diversity of historical sources in their authentic shape, discovering messages hidden in the individual carvings and inscriptions and, last but not least, building up a specific image of their authors. At the same time, efforts are made to prevent such an image of the former Ghetto inmates from being reduced merely to a picture of wartime victims. Instead, their life story is presented in a broader context and time horizon. A major factor of the workshop itself is the students´ research involvement and efforts conducive to uncovering and bringing up further social-science issues or leading to a quest for present-day parallels.
Su