Cinerary Urn of Hermine Mayer as a Recollection of One of the Fates of Austrian and German Jews in the Terezín Ghetto
One of the few 3D collection items, recalling the fate of more than 47,000 German and Austrian Jews deported to Terezín in 1942, is the cinerary urn of Hermine Mayer. The urn was found in 1958 near the former Richard underground factory where the Nazis had ordered one part of the ashes of the deceased Ghetto inmates to be buried in November 1944.
Hermine was born on November 21, 1864 at Hostomice pod Brdy as the first child of Wilhelm and Julie Kauders. The family moved from Hostomice to Spálené Poříčí where Wilhelm taught at a German Jewish school, at least between 1867 and 1876, and where Hermine´s six siblings were born. In later years, the family moved to Höchst (now a quarter of Frankfurt am Mainz) where sisters Hermine and Mathilde Kauders set up a shop selling textiles in 1894. In the fall of 1896, Hermine married Max Mayer and three children were born to the couple – Gertrude (1898), Erich (1900) and Curt (1905). Max died in 1910 and after his death Hermine managed to run the shop herself for another two years. In 1916 she moved with her children in Höchst to a new house on Konrad-Glatt-Straße. Gertrude attended a local secondary school and thanks to her further studies she attained qualification of a certified accountant, and then worked as a secretary in a Jewish company. This business was forced to wind up at the end of the 1930s. Gertrude figured among the founding members of the Jüdischen-Jugend-Bund Höchst, mostly co-organizing its youth evenings. After finishing their studies at a high school, her brothers Erich and Curt worked as tradesmen.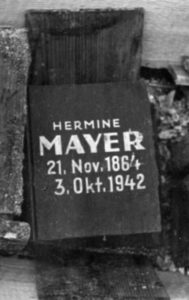 After the Nazis came to power in Germany the regime gradually introduced measures aimed at forcing the Jews out of the country´s economic and social life. First, in September 1939, Hermine and Gertrude Mayer had to move into one of the houses in which the Jews from Frankfurt were concentrated, and then, on September 16, 1942, they were deported by transport XII/3 to Terezín. By that time, Hermine already suffered from severe gout and was committed to a wheelchair. Living in the Kavalír barracks, where old Terezín Ghetto inmates languished, she rapidly lost her will to live and died on October 3, 1942. On October 16, 1944, Gertrude was deported by transport Er to Auschwitz where she probably perished in its gas chamber immediately after arrival.
The sons of Hermine Mayer managed to emigrate from Germany in time. Erich with his family moved to France and after that country was occupied by Nazi Germany he joined the French underground resistance movement. Later on, he succeeded in leaving Europe and joined de Gaulle´s Free French Forces. He fought in Africa and after the invasion of Normandy he took part in the liberation of the country that had given him shelter before the war. He died in Dijon in October 1979. Curt had immigrated to Palestine and in the early 1980s he was still living in Jerusalem.
The so-called Stolpersteine, cobblestone-size concrete cubes bearing brass plates with the names of the victims of the Holocaust and the Nazi regime, set in the pavement in front of the relevant houses, have also been placed since 2009 in front of the building in Konrad-Glatt-Straße No. 3 in Höchst where Hermine and Gertrude Mayer had spent 23 years of their lives.
Ra