Seventy-five years will have elapsed in the autumn of 2019 since the time when – between September 28 and October 28, 1944 – more than 18,000 inmates left the Terezín Ghetto in 11 transports heading to the East.
We reported on these transports, on their historical context and on the methods of their organization in the past (Newsletter 3/2014). This, however, does not mean that this particular chapter in the Ghetto history is a closed matter for us. In this edition too we would like to recall – at least through the fates of two youngsters – all those people who were leaving the Ghetto that autumn believing this would be a labor deployment but at the end of their journey instant death awaited most of them. In fact, the total number of people liberated in the camp amounted to slightly over 1,500.
It is generally well known that many inmates in the Ghetto wrote their own diaries. Those lucky enough not to be included in the autumn transports left on the pages of their diaries testimony on how the Ghetto looked like during the dispatch of the transports, and also how it looked later on when more than half of the inmates had left the Ghetto. And then there is evidence of those who had left for the East and lived to see their liberation. Some of them wrote their recollections of the events of the autumn of 1944, describing the moments when they were leaving the illusory "safety" of the Terezín Ghetto and when they got their first experience of the Auschwitz concentration camp.
One of these people was also Helga Weissová, then 14-year old, who had begun writing her diary already before her deportation to Terezín and then continued to write in the Ghetto. After the war and after her return home she described her recollections of the transport to the East and added them to her diary. Helga and her mother were assigned to transport codenamed En. That left Terezín on October 4, 1944. Helga´s father had left the Ghetto in one of the previous transports.
Here are Helga´s recollections of her transport and arrival to Auschwitz.
October 4, 1944
We might have been able to get out of it, but we didn´t want to. Since we´re in it, we´re going. In this case it´s best to leave things as you find them. We´ve been allowed to take all our luggage – a good sign. Maybe they were right and we´re following the men. I´m looking forward to it; perhaps I´ll see Dad by the end of the day.
… I wonder if a Transportleitung will come and help us with our luggage, like when we arrived at Terezín? Maybe Dad or Ota will be at the station. They´ll be surprised to see us. We should be there soon – Königstein, they said, it must be close already. We´ve been travelling about six hours.
….. It´s getting light out. Where are we now? We´ve just passed through a station. Katowice. My God, that´s the Polish border. Where are they taking us? The front´s in Poland now. Could it be to Birkenau? But we heard it had been wound up, that transports weren´t going there any more. So where are we headed? Are our men there? Is so, then it doesn´t matter where we go, so long as we stay together.
What´s this? The train has stopped. A whole group of striped people is running towards us. Is there anyone among them from Terezin? Maybe they´ve come to help with our baggage. Perhaps Dad´s among them. But no, they´ve probably just come to see what sort of train this is. We´re not getting off here, surely? Or – why didn´t it occur to me earlier? – this is Auschwitz, of course. Birkenau is nearby, maybe the trains don´t go there, so we´ll have to walk that bit. Definitely, that´s the way it is. This is Auschwitz, the concentration camp, and we´re going to Birkenau, the work camp.
They sort us into two groups. One – older women and mothers with young children – goes to the left; the other goes to the right. ´Sick people shouldn´t say anything,´ hushed voices repeat; ´you´re all healthy,´ one of the ones in prisoner´s clothes whispers in Czech just behind me.
… But…. Maybe I look too much like a child? Maybe they´ll ask me how old I am. Should I tell the truth? Fifteen; no, that´s too little – they´d send me left and separate me from Mum. I´d better say I´m older, maybe eighteen. Do I look it? …
… Oh Lord, I pray to you, leave me and Mum together. Don´t let them send us each a different way. Two more people and it´s our turn. For God´s sake, what if he asks me what year I was born? Quickly: 1929 and I´m fifteen, so if I´m eighteen… 29, 28, 27, that makes 1926. Mum is standing in front of the SS man, he´s sent her to the right. Lord, let us stay together! ´Rechts!´ the SS man snarled at me and pointed the way with his finger. Praise be, we´re both on the same side. Thank you, God, a thousand thanks for making it work out.
Later sent for work in Germany, Helga and her mother were liberated by the US Army in the Mauthausen concentration camp. Helga´s father was murdered in Auschwitz.
Honza Treichlinger, a boy from the village of Štěnovice near Pilsen, was born in the same year – 1929 – as Helga. As a small boy he lost both parents and was eventually brought up by the family of Benno Bloch. His aunt Ida Blochová was a sister of Honzík´s father Arnošt. On January 22, 1942 Honzík was assigned with the Blochs to a transport heading to the Terezín Ghetto.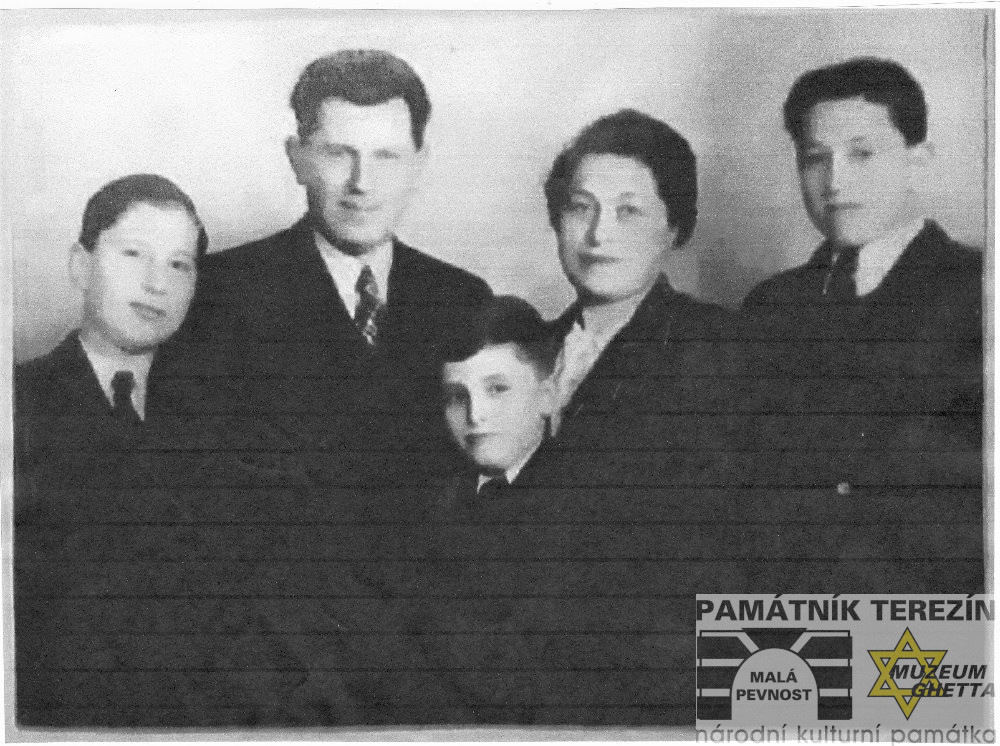 In the Ghetto Honza earned the nickname "Sarah"; that was still during his stay in the so-called Sudeten Barracks. There he had his bed situated right by the door and every time somebody forgot to shut it he would call out – imitating a popular anecdote: "Hey, Sarah shtut that damned toor." He himself asked for the leading role in the children´s opera Brundibár that began to be rehearsed in the Ghetto in the summer of 1943. Even though the figure of Brundibár is a negative character, Honza succeeded in rendering Brundibár a lot more human, and despite what was actually an unsavory character he impersonated, Honza became darling of the audiences. And not only among the children. Even cooks were said to give him more liberal soup portions.
On October 16, 1944 Hanuš (also called Honza) was assigned to a transport codenamed Er in which he was surrounded by the true cultural elite from the Ghetto; it was no exaggeration that this transport was sometimes described as a "transport of artists": Hans Krása, Pavel Haas, Viktor Ullmann, Karel Ančerl, František Petr Kien and others. Hanuš´s short stature probably proved fatal to him: he was murdered shortly after arrival to the Auschwitz death camp.
Literature:
Helga´s Diary (A Young Girl´s Account of Life in a Concentration Camp), Penguin Books, 2014, excerpts. pp 117 – 121.
Franěk, Rudolf: Terezínská škola (Terezín School), Svaz protifašistických bojovníků (Union of Anti-fascist Fighters), Prague 1965 (in Czech).
Vlčková, Alena: Židovská historie ve Štěnovicích (Jewish History at Štěnovice), OÚ Štěnovice (District Council), 2011 (in Czech).
Se