Jiří Lauscher was born in Terezín on September 14, 1901 to parents Siegfried and Anna. The family lived in the premises of the local watermills where Siegfried served as a clerk. Shortly after her husband´s death in 1911, the widowed Anna with both sons, the first-born František and the younger Jiří, moved to her relatives in Liberec, and later settled down in Prague.
Mother could afford to pay for expensive university studies only for her elder son. After finishing his compulsory school attendance, from the age of 14 Jiří contributed to the family budget thanks to his employment in the office of a metallurgical concern, while continuing his education by attending a business school in Prague; he finished his business studies in 1917 at the age of 16. By that time, he was an enthusiastic member of the Zionist-oriented youth movement Techelet lavan, leading a group of 12- and 13-year old children who were raised in the Boy Scout spirit and love for the ancient Jewish homeland and Jewish culture.
The young man gradually began cherishing plans to leave for Palestine. Before then, he stayed in the United States in the years 1920-1921 where he sought to gain practical skills in fruit growing, and hoped to apply them in the future in building Palestine. But his troubles in getting used to the local climate in America led to his premature return to Czechoslovakia, which was followed by his involvement in a Zionist organization where he also met his wife-to-be Irma (née Kohnová). In the spring of 1925, Jiří travelled to Palestine where he co-founded the kibbutz Sarid, working primarily in the building sector and in various handicraft jobs. Having fallen ill with malaria, he returned to Czechoslovakia in 1930, firmly resolved to return to Sarid as soon as possible, together with Irma whom he married two years later. However, the subsequent family events prevented them from carrying out their intentions.
The Lauschers lived in Prague, Jiří holding clerical jobs, mostly in business; Irma was a teacher in a Jewish primary school in Jáchym Street. In addition to their jobs, the husband and wife were actively involved in preparatory courses for immigration to Palestine – Jiří taught especially various manual skills, Irma mainly childcare and educational methods. Daughter Michaela was born to them in December 1936. The three-member family was a typically middle-class one, living in a modern apartment at Letná district and employing a handmaid who took loving care of the small Michaela and of the household. Both parents were fervent hikers, leaving Prague during weekends for outings with their little daughter. This idyllic lifestyle was brought to an abrupt end by the occupation of the Czech lands in March 1939 and the proclamation of the Protectorate of Bohemia and Moravia.
This was followed by the loss of their handmaid, by their forced move to a shabby flat in the Žižkov quarter, inhabited – together with the Lauschers – by several other Jewish families. To add to many other wrongs, Jiří lost his clerical job. But in fact, Jiří had expected he would lose his job and so, at the turn of March and April 1939, he attended a training course in manufacturing wooden toys. He could then make good use of his skills during his employment in a factory making toys and other wooden products. He held that job until his deportation to Terezín; he was sent there with his wife and daughter in a transport in December 1942.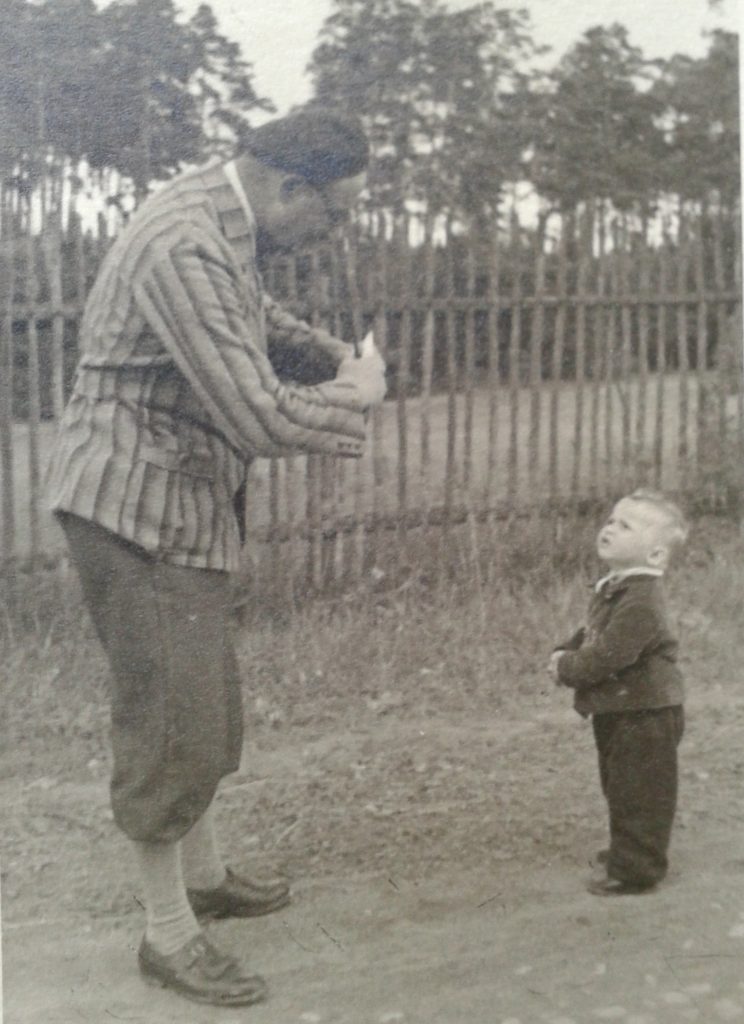 After arrival in the Terezín Ghetto, Jiří met his elder brother who advised him how to pass through the strict entry checks and how to keep all the personal belongings he had brought with him. These included a wooden toy, a little dog named Pluto, made by Jiří for his daughter Michaela. The toy also helped Jiří as a proof of his handicraft and secured him labor deployment in a group of carpenters. Even though the job was physically demanding, it offered some advantages, including slightly higher bread rations and, for a time, protection against deportation to the East.
In the Ghetto, the Lauschers lived separately; initially their daughter stayed in a children´s home, but very soon she was moved to the camp hospital with a serious infectious disease, spending there more than a year. Meanwhile, her parents were looking for a dwelling for all of them. Helped by several of his workmates, Jiří built an attic flat in the town hall building, and in its close vicinity he later made a makeshift cubby hole for his wife. After her release from hospital small Michaela came to live with her mother. Due to her heart problems and the necessity not to exert herself too much, Michaela would often wait in front of the town hall for her father who then carried her on his shoulders up to the third floor.
During his internment in the Ghetto Jiří Lauscher experienced several strokes of good luck. Possibly the greatest of these came when he was taken out of the last transport leaving for the East in October 1944. As a matter of record, a sudden storm ripped off the roof in the complex of the so-called Southern Barracks. Several carpenters, who had been recalled from the assembly point for the transport to repair the roof, did not manage to finish the job in time for the departure of the deportation train and stayed in Terezín. As a result, Jiří Lauscher and his immediate family survived the war in the Terezín Ghetto.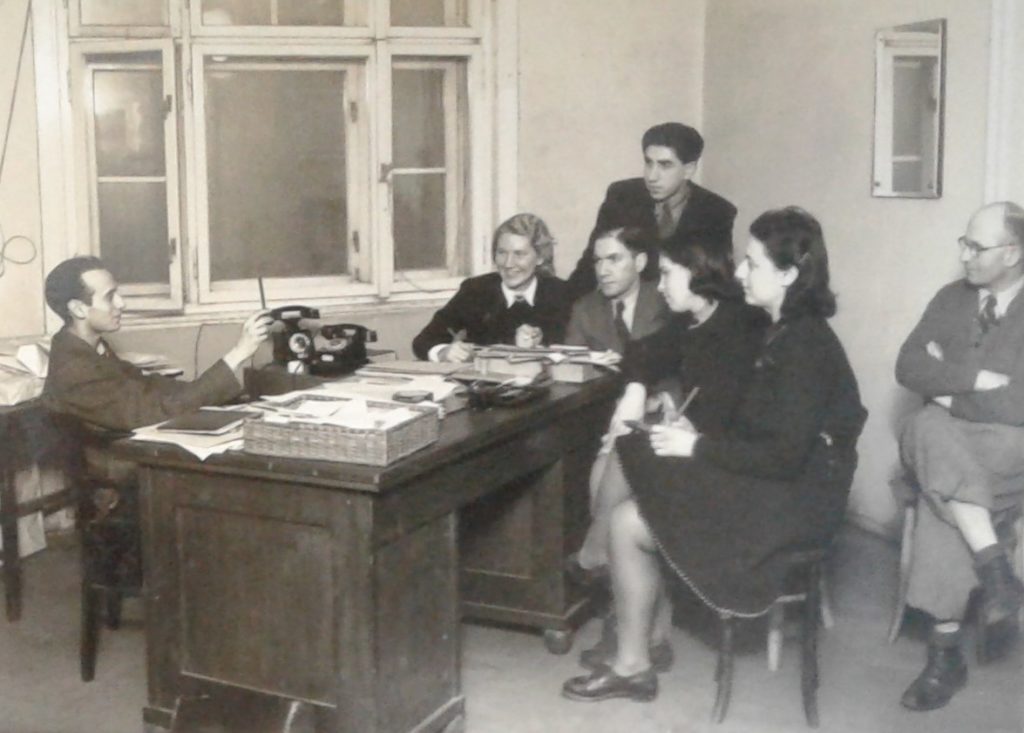 In spite of a quarantine declared in the liberated camp after the war Jiří Lauscher left for Prague to prepare the ground for the return of his wife and daughter. Soon enough he joined the so-called Documentation Action. Until the end of May 1946 Lauscher kept amassing and sorting out documents for archives and took photos of the former camp, also making wooden scale models of its dormitories for museum purposes. In fact, he devoted himself to these activities with great passion even after the Documentation Action ended.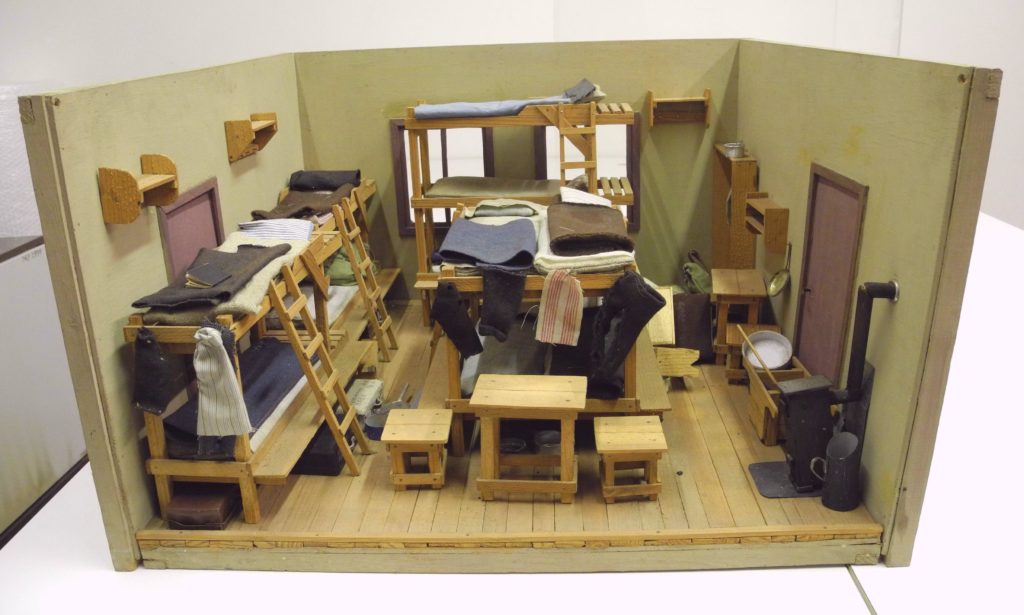 From 1948 Jiří Lauscher worked as a switchboard operator at the newly established Israeli Embassy in Prague. However, the anti-religious and anti-Semitic policies in communist Czechoslovakia in the early 1950s brought the Lauschers back to their previous thoughts of immigrating to Israel, even though legal immigration was by then impossible. They were captured during an illegal attempt to cross the borders in 1953, Jiří with Irma were sentenced to imprisonment, Michaela was committed to a juvenile detention center. Thanks to President Zápotocký´s amnesty Jiří spent in jail just a year out of his original sentence and then he could return to his job at the Israeli Embassy. After its closure in 1967 he retired.
But even in his retirement age Jiří Lauscher did not lead a passive life and together with his wife they immediately launched intense cooperation with the German volunteer organization ASZ (Action Reconciliation), whose activities in many countries have for many decades now been aimed at reconciliation with the injustice and crimes committed by the Nazi regime. During these projects the Lauschers would encounter young people from Germany, attended, for example, summer youth working camps where they described to the youngsters, for instance, life in wartime Terezín and did their best to promote education and reconciliation of the once hostile nations. On many occasions, they would also serve as guides accompanying groups of visitors on their tours of Terezín. In addition, Jiří Lauscher was tirelessly amassing documents tracing the history of the Terezín Ghetto, while enriching the archives and collections of many outstanding remembrance institutions. He applied himself to these activities until his death in November 1989.
Jana Sumičová